Winning Abstracts from the 2014 FST Conference
Winner of the Oral Presentation Prize
Standardised operative skills assessment with custom printed 3D models
V Waran, V Narayanan, K Ravindran, Owen SLF, Aziz TZ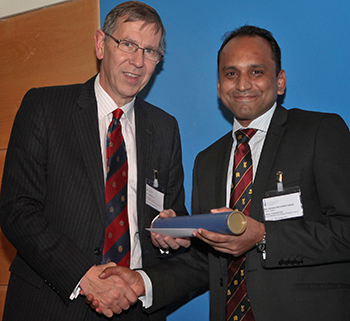 Background/Introduction:
Objectively measuring operative surgical skills has been more of an art than science. Yet the need for a standardized and structured assessment tool which can be repeated as necessary till the expected skills have been acquired before allowing the trainee to progress to the next step is very necessary.

Simulators, virtual or physical, offer a possible solution. These simulators can be used for the dual purpose of training as well assessment, in a standardized fashion, of surgical trainees.

Utilizing a multimaterial 3D printer, we were able to convert patients imaging data into accurate physical models. These realistic models enabled us to train and assess the operative surgical skills of a large number of trainees simultaneously and repetitively, simulating actual neurosurgical procedures.

Aims/Objectives:
The aim of this study is to evaluate the usefulness of these models in the assessment of trainees surgical skill in performing standard neurosurgical procedures.

Method:
Multiple models of the head of a patient with glioblastoma multiforme was created based on his imaging data. A workshop was conducted using theses heads as a teaching and assessment tool. The surgical trainees were assessed for successful performance of key operative steps as well as the duration of time and number of attempts taken to learn them.

Results:
The accuracy and duration of time to perform the procedure improved dramatically with each attempt. The assessment of key operative step and duration of procedure was objective and provided clear endpoints to both the trainee and surgeon.

Discussion/Conclusion:
Surgical trainees need multiple attempts to learn essential procedures. The use of the simulators provided an accurate way to assess the progress of these trainees in a safe environment. This would theoretically shorten the learning curve while standardizing teaching and assessment techniques of these trainees.

Winner of the Poster Presentation
A novel tonsillectomy simulator: using silicone to train future surgeons.
Aphrodite Lacovidou
with Bhavesh Patel, Zaid Awad, Neil Tolley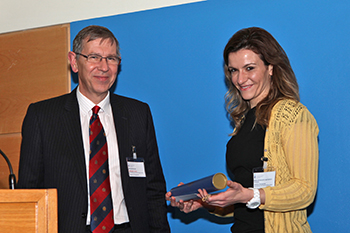 Background/Introduction:
Tonsillectomy is the commonest otolaryngology procedure performed by otolaryngologists and is considered the 'bread and butter' for early-years training. Concerns about patient safety and reduced trainee exposure means that we are unable to rely on experiential training anymore and alternative training options are required.

Aims/Objectives:
To produce a new cold-steel tonsillectomy simulator for training otolaryngology trainees.

Method:
A literature search for tonsillectomy training platforms was carried out. Eleven simulators were identified, including one virtual reality simulator. The majority focus on tying at depth with little attention to other steps of the procedure. These were low fidelity models, which failed to represent the anatomy of the oropharynx. Moreover, they do not address the range of technical skills required for tonsillectomy such as hand-eye coordination, manual dexterity, instrument and tissue handling. We developed a novel tonsillectomy simulator and assessed its appearance and functionality. Life-size silicone tonsils with embedded tubes representing blood vessels are attached to a silicone tonsillar fossa. The tubes are attached to saline bags filled with artificial blood. The inserts are placed in the oropharynx of Airsim manikin (Trucorp). Measurements were taken and compared to normal adult anatomy and tonsillectomy was attempted with an endotracheal tube in situ.

Results:
Similar to real-life tonsillectomy, the oropharynx was dark and required the illumination of a headlight, neck extension and Boyle-Davies gag for exposure. Tonsillectomy was feasible by dissecting the tonsils off the tonsillar fossa using scissors and ligating two 'bleeding vessels' at depth. Suction can also be used in the oropharynx and nasopharynx. The model had comparable appearance and dimensions to adult anatomy.

Discussion/Conclusion:
This is the first simulator that accommodates the standard setup and allows the practice of all main steps in cold-steel tonsillectomy. It has the potential to teach and assess trainees' technical and non-technical skills.
System Disruptions: 19th August 2017
Due to essential systems maintenance and upgrades there will be interruptions to some on-line services on Saturday 19th of August.
We apologise for any inconvenience caused.
×