Faculty of Surgical Trainers Annual Meeting 2013 - Abstracts Selected for Presentation
At the Faculty's Annual Meeting 2013, Consultants and Trainees were invited to submit abstracts for presentation on the subject of 'Surgical Education and Training'.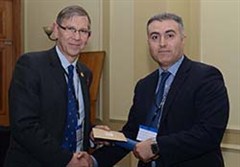 Mr Zaid Awad (right) is congratulated by RCSEd President Mr Ian Ritchie for his winning Oral Presentation on 'Competency in ENT Surgery, The Pace of Learning'.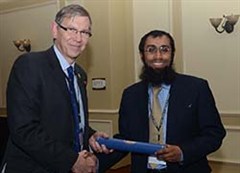 Mr Badrul Hussain (right) is runner-up  for his presentation on 'Developing a Virtual Reality Training Curriculum for Ophthalmology'.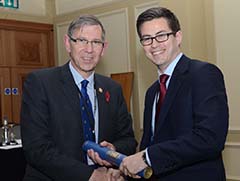 Mr Peter Coe (right) wins the Poster Presentation prize for his abstract on 'The role of Simulated Operations using a  Human Fresh Frozen Whole Body Cadaveric Model'.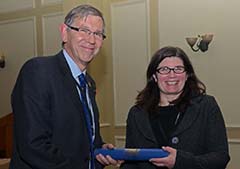 Ms Fiona Carter (right) accepts the award on behalf of Mr Nader Francis who was runner-up for his poster 'Development and Evaluation of a Cadaveric Training Curriculum for Low Rectal Cancer Surgery in the English LOREC National Development Programme'.
Further images from this meeting can be found on the Faculty of Surgical Trainers' Facebook page.
Abstracts selected for poster presentation are available to view by downloading below:
Documents
System Disruptions: 19th August 2017
Due to essential systems maintenance and upgrades there will be interruptions to some on-line services on Saturday 19th of August.
We apologise for any inconvenience caused.
×