Annual Conference of the Faculty of Surgical Trainers Surgical Training: Excising the Barriers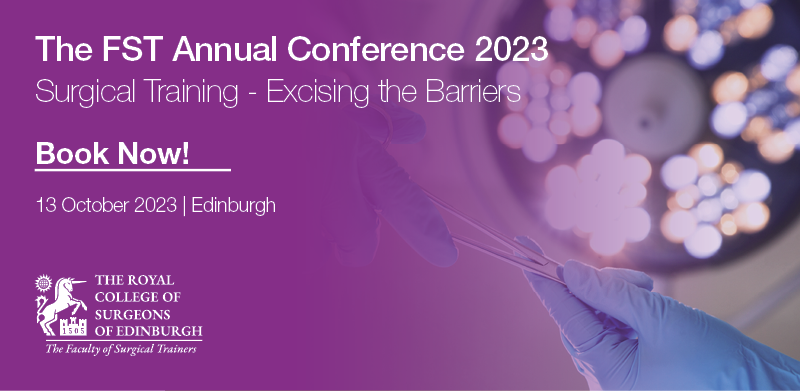 The Faculty of Surgical Trainers (FST) is delighted to announce that The FST Annual Conference 2023 will take place on Friday 13 October 2023 at The Royal College of Surgeons of Edinburgh.
Surgical Training - Excising the Barriers will focus on equality and diversity in surgical education and training, examining the effect this can have on both trainees and trainers.
The aim of the conference is highlighting equality and diversity issues within surgical training, bringing into focus where these issues arise and how people have dealt with them.

Abstracts Submissions Now Open!
We are now accepting abstracts for the conference. 
Theme: Equality and diversity in surgical education and training
Deadline: 17:00 BST on Monday 5 June 2023
For more information about submission and requirements, please download the abstracts guidelines HERE.
Learning Outcomes
After attending this one day conference delegates will be able to:
1) Identify issues of EDI within surgical training
2) Suggest areas where this can be improved
3) Describe how to embed "professionalism" in a trainer
Costs
Fee: £170.00
Fee for FST Members: £135.00
Fee for RCSEd Members/Fellows: £135.00
Conference Director
Mr Alexander Phillips, RCSEd Faculty of Surgical Trainers Director