Annual Conference of the Faculty of Surgical Trainers Surgical Training: Excising the Barriers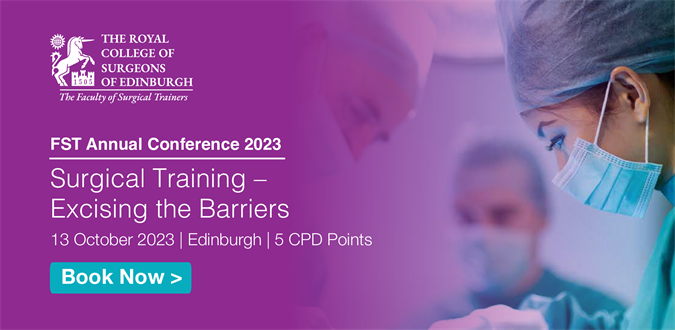 Surgical Training - Excising the Barriers
The Faculty of Surgical Trainers (FST) is delighted to announce that the FST Annual Conference 2023 will take place on Friday 13 October 2023 at The Royal College of Surgeons of Edinburgh.
The conference theme Surgical Training - Excising the Barriers will focus on equality and diversity in surgical education and training, examining the effect this can have on both trainees and trainers.
The conference will highlight equality and diversity issues within surgical training, bringing into focus where these issues arise and how people have dealt with them. Find out more and view the programme here.

Learning Outcomes
After attending this one day conference delegates will be able to:
1) Identify issues of EDI within surgical training
2) Suggest areas where this can be improved
3) Describe how to embed "professionalism" in a trainer
Costs
Fee: £170.00
Fee for FST Members: £135.00
Fee for RCSEd Members/Fellows: £135.00
Conference Director
Mr Alexander Phillips, RCSEd Faculty of Surgical Trainers Director

System Disruptions: 19th August 2017
Due to essential systems maintenance and upgrades there will be interruptions to some on-line services on Saturday 19th of August.
We apologise for any inconvenience caused.
×