Annual Meeting 2013

The Faculty of Surgical Trainers' Annual Meeting 2013 took place at the Macdonald Burlington Hotel, Birmingham on 24 October 2013 on the subject 'Playing for Real: Simulation in Surgical Training'.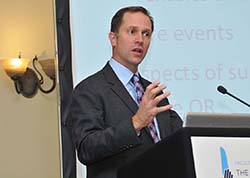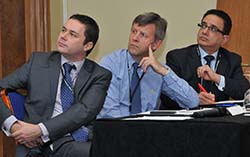 This meeting brought together world experts on simulation from the surgical training world and beyond to address how simulation can be used to enhance both technical and non-technical performance in surgery.
The surgical training landscape is continuing to change and evolve, and simulation will be embedded into training programmes in the very near future. This meeting enabled attendees to hear expert opinions, but with practical real world examples from the world of simulation.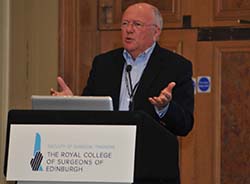 Attendees were given the opportunity to discuss the state-of-the-art in simulation, from a theoretical, educational and practical viewpoint, aiding the development of a better understanding of what simulation is capable of, what is being achieved and practiced currently in training using simulation, and how simulation can be used to improve a surgical trainer, or trainee.

Speakers at the event included:
Keynote speaker, Dr Douglas Smink (STRATUS Centre for Medical Simulation Brigham and Women's Hospital Boston)
Dr Fernando Bello (Surgical Graphics and Computing, Dept of Surgery and Cancer, Imperial College London)
Professor Pramod K Luthra (Associate Postgraduate Dean, North Western Deanery and Member of the JCST Simulation Working Group)
Captain David Rowland (British Airways)
Professor Oscar Traynor (National Surgical Training Centre, Royal College of Surgeons of Ireland)
Professor Ken Walker (Raigmore Hospital, Inverness)
Dr Mark Wentink (Simendo)

Further Information:

If you have enquiries about the FST Annual Meeting, please email education@rcsed.ac.uk.
System Disruptions: 19th August 2017
Due to essential systems maintenance and upgrades there will be interruptions to some on-line services on Saturday 19th of August.
We apologise for any inconvenience caused.
×