Free Year of Associate Membership for ASiT/BOTA Members
26 June 2018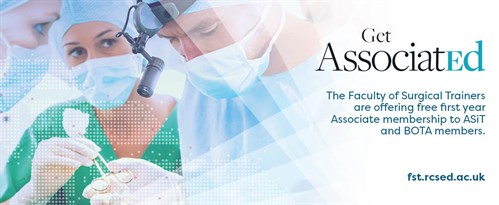 The Faculty of Surgical Trainers is offering members of The Association of Surgeons in Training (ASiT) and the British Orthopaedic Trainees Association (BOTA) free membership for a year at Associate level.
Becoming an Associate of the Faculty demonstrates your active interest in surgical training. Surgical Associates must be at the level of ST3 and above, however Associate membership is also open to non-surgical clinicians and scientists.
All those applying for Associate membership of the Faculty are asked to present a letter of support from an educational supervisor or comparable professional that illustrates the applicant's interest in and commitment to the field of surgical training.
To apply or for more information please email fst@rcsed.ac.uk.
News Archive
Select a year and month from the headings below to view news items from that month.
System Disruptions: 19th August 2017
Due to essential systems maintenance and upgrades there will be interruptions to some on-line services on Saturday 19th of August.
We apologise for any inconvenience caused.
×