Not Everything that Counts Can be Counted
14 January 2022
FST Executive Committee Member, Robin W Paton assesses whether the UK surgical training tree requires pruning and nourishing.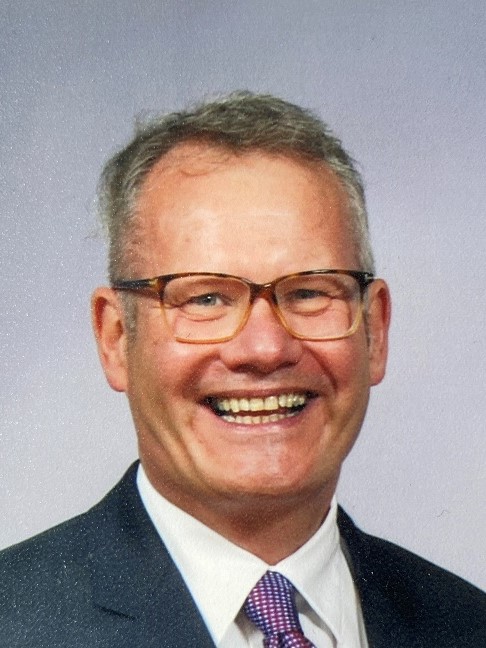 In recent years medical education has become increasingly complex due to the need to improve educational outcomes. This was necessary to replace a poorly structured 'ad hoc' system that was not fit for purpose in the modern world. However, as sociologist William Bruce Cameron once said (often wrongly attributed to Albert Einstein): "Not everything that can be counted counts, and not everything that counts can be counted." This highlights the importance of 'what to count' in the evaluation and assessment of successful surgical education outcomes.
A non-educational example of increasing complexity resulting in a poorer outcome is the comparison of the Series 1 E-Type Jaguar car with the Series 3 model. The Series 1 was light, fast and reactive, while the Series 3 was heavy, unresponsive and slow, secondary to increasing regulation. Has current medical education/regulation avoided this outcome?
In medical education, the core role of the effective surgical trainer is to teach, supervise, coach and mentor, which are skills that are difficult to measure objectively. A good training environment is key to success. Receptive surgical trainees should have skills and knowledge allied with professional behaviours and attitude.
Good training should be mutually beneficial – it should be enjoyable and rewarding for both trainer and trainee. However, as the General Medical Council (GMC) highlights, trainers and trainees are already operating in a challenging environment, affected by fatigue, burnout and stress, and exacerbated by the COVID-19 pandemic.
The GMC is currently reorganising surgical training with Capabilities in Practice (CiPs), Generic Professional Capabilities (GPCs) and the Multiple Consultant Report (MCR). However, there has been no amalgamation of previous educational guidelines/education documents, despite the GMC's stated aim to reduce appraisal paperwork (including educational documentation). Too much paperwork could cause dissatisfaction, fatigue and disengagement in the process by trainers and, to some extent, trainees. Without enthusiastic and engaged trainers, the training process cannot be effective.
The UK's postgraduate surgical education process is complex and there is the risk of 'crossed wires' between the different educational and regulatory bodies, and specialist societies involved (see Figure 2). This complex regulatory system can be broken down into a simple surgical training tree (see Figure 1).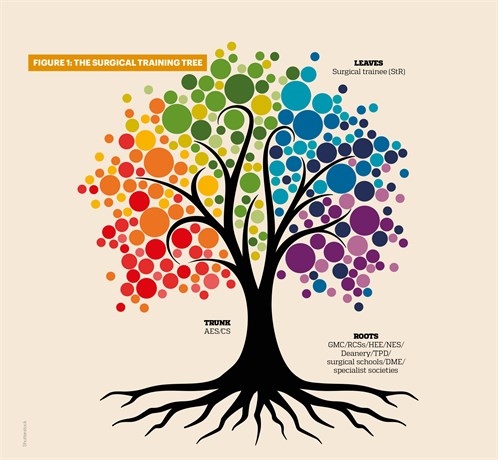 Roots
The 'roots' contain the necessary reference and regulatory framework necessary for surgical training. These include GMC reference documents, the curriculum, the syllabus and the Reference Guide for Postgraduate Foundation & Specialty Training in the UK (otherwise known as The Gold Guide)1-8.
However, there is significant duplication and overlap in many of the GMC documents (see Figure 3). Review, amalgamation and simplification of these documents to a more surgical 'lite' approach –focusing on knowledge, professional skills/behaviour, teaching/training, education, teamworking, communication, safety and quality – would be a helpful reform.
The over-management of educational appraisal runs the risk of the management of education becoming more important than the educational outcomes themselves, negating the laudable aims of improving educational outcomes and training better surgeons.
Trunk
At present there is very little feedback in the educational system for the surgical trainer – that is, the Assigned Educational Supervisor (AES) and Clinical Supervisor (CS). The educational hierarchy generally works in a top-down direction to the AES/CS with no formal feedback loop. Trainers are the most important cog in an effective surgical training process and are the link between the regulatory training bodies and trainees.
Currently, there is no formal national forum for surgical trainers to discuss their role and feed back to the regulatory bodies. The Faculty of Surgical Trainers could be the conduit for such a national forum in the future.
The number of national and regional organisations involved in the surgical educational process has rocketed over the last few decades, particularly with the increase in surgical subspecialties. These bodies risk making 'too much noise' by overloading trainers with documentation and guidelines.
The AES and CS are vital in the teaching, supervision, coaching and mentoring of trainees. Communication between the AES and CS (and the trainee) is often limited by geography, effective IT systems (including ISCP) and time. However, if effective, the new MCR may be a forum to improve AES/CS communication. Adequate time should be made available for the AES/CS in the consultant job plan to achieve effective training standards.
Leaves
The aim of the educational process is to make training effective, and for the 'day-one consultant' to be knowledgeable, professional, safe, surgically skilled, a good communicator, a leader and a team worker.
The training is in three phases, with the Certificate of Completion of Training (CCT) being awarded at the end of phase 3 if progress has been satisfactory. The training levels ST3 to ST8 are in two phases lasting six years in total. Post-CCT Fellowships may also be undertaken for specialist training in an area of career interest. This makes surgical training in the UK one of the longest in the Western world (two years foundation, two years core training and six years specialist training).
This modular training is underpinned by the GMC (Shape of Training, Excellence by design, Generic Professional Capabilities, Good Medical Practice), the Surgical Curriculum, and the Gold Guide. The trainers' responsibilities are underpinned by the GMC document Recognition and Approval of Trainers1-8.
Each surgical specialty has its own curriculum. Its purpose is to have excellent outcomes in a full range of emergency and elective conditions (in the generality of the specialty). The outcome is to be safe and competent, and to promote and encourage excellence through the setting of high-level outcomes. This is measured through observable behaviours. This aim is competence-based training, not time-defined as in the past.
A recent review of training has resulted in significant changes to the curriculum. It is hoped that the introduction of GPCs and CiPs (see Figure 3) will produce a more flexible and adaptable workforce because CiPs are transferable to other surgical specialties and GPCs
have essential capabilities that underpin professional medical practice (common to everyone who practises medicine). 
Trainees have 'critical conditions' evaluated by case-based discussions or clinical evaluation exercises, and index procedures that are assessed by procedure-based assessment (CS and AES). Knowledge is assessed by the Intercollegiate FRCS examination (usually at ST7). Satisfactory annual progression is assessed by an Annual Review of Competency Progression, multi-source feedback and MCR. In addition, the trainee must undertake regular audit/QI medical education and training, management and leadership courses/qualifications, educational conferences and complete an e-logbook of surgical procedures. Is there a risk of educational overload compared with other professional groups?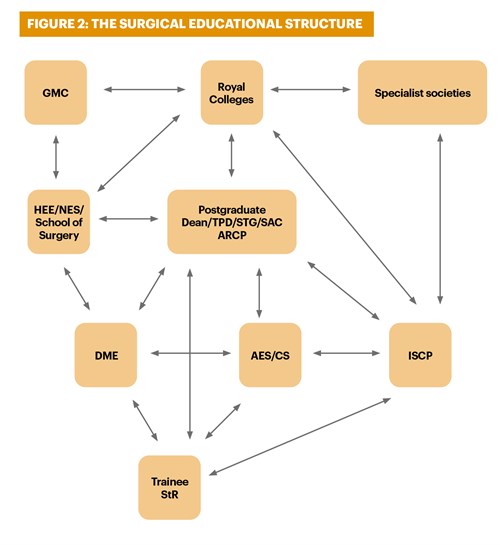 Up for Discussion
Surgical postgraduate training has become increasingly complex in the UK. Should there be a regular review of the surgical training tree by the regulatory authorities such as the GMC with regular pruning of the core elements?
Currently, there is very little in the way of meaningful feedback to and from trainers (CS and AES). There is the potential of too much noise from too many sources. All new educational inputs from the various educational/specialist bodies (see Figure 2) should be reviewed and validated prior to introduction to assess their relevance to training outcomes (improving the skills of surgical trainees).
Should this be the role of the Royal Surgical Colleges or the GMC? There is a risk that currently the separate training and specialist bodies (national, regional and local) work in different silos with limited communication/coordination. 
It is important to invest in the key trainers – the CS and AES – and ensure they have adequate time and resources to train. Trainers should be trusted if they are judged to have reached and maintained the required educational standard to act as effective surgical trainers.
Revalidation of trainers on the GMC register should be considered every three to five years (linked to GMC revalidation and multi-source educational feedback). Ineffective or disinterested trainers should be retrained or removed from training. Trainer rewards such as Regional Trainer of the Year in the surgical specialties should be promoted because this can encourage competition to improve educational outcomes and boost morale.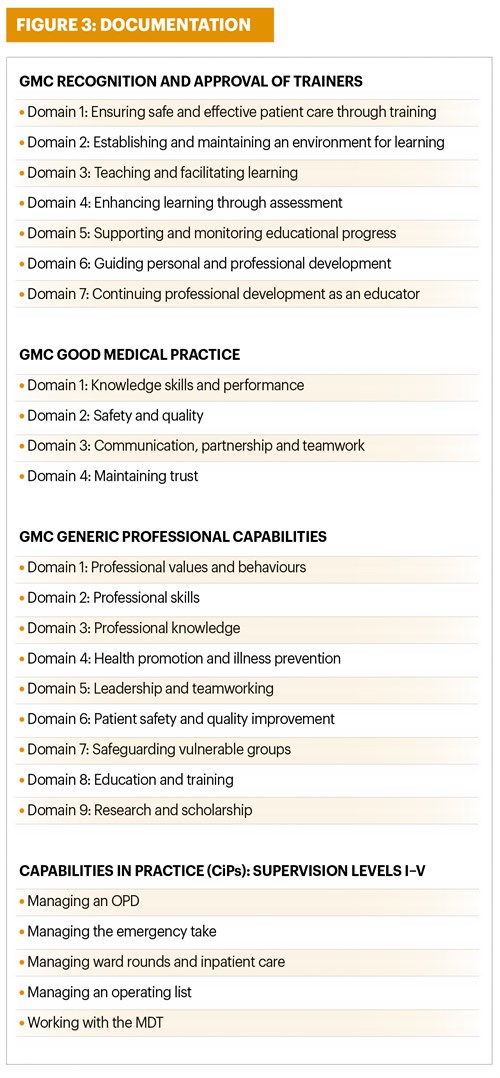 Keep it Simple
In industry there has been a realisation that overcomplicated assessment systems can negatively affect optimum performance. Overcomplicated paperwork can develop a 'copy and paste' culture where the trainer completes the task without engagement, enthusiasm or, eventually, care. There are exciting new methods of training being developed, such as in simulation, AI, robotics and virtual reality. Future investment is vital in these new educational tools for surgical education to develop.
The medical profession could learn from other industries such as aviation and adapt their methods of training to the healthcare environment. The trainee surgeons have better IT skills than earlier generations of surgeons, and we should encourage them to use these skills to be engaged and improve the training process. The educational process should listen and act on feedback from trainers and trainees in an open and inclusive way.
In Summary
There is a risk that surgical education has become overly complex, with too many educational/specialist bodies involved. This can result in duplication and overlap of documentation, crossed wires in communication, a top-down approach to instructing trainers and trainees, and increasing bureaucracy. This can leave the trainer and trainee isolated from the educational process.
There is an increasing acknowledgement of burnout among medical trainers and trainees working in a difficult clinical environment. There is a case to revisit the surgical training environment and 'prune' certain unnecessary or duplicated educational elements to achieve the required surgical educational outcomes.
Is it time for the 'next step' in surgical education, moving from a largely paper-based system to new, more interactive, inclusive educational modalities with the reformed Surgical Educational Tree as its core? Is it time to stop trying to 'count everything' and take a more holistic approach? 
References
1. Excellence by design: standards for postgraduate curricula. General Medical Council. www.gmc-uk.org/education/postgraduate/GPC.asp
2. Good medical practice. General Medical Council. www.gmc-uk.org/ethical-guidance/ethical-guidance-for-doctors/good-medical-practice
3. Generic professional capabilities, guidance on implementation for colleges and faculties. Academy of Medical Royal Colleges & General Medical Council. www.aomrc.org.uk
4. Generic professional capabilities framework. General Medical Council. www.gmc-uk.org/education/postgraduate/GPC.asp
5. The trauma and orthopaedic surgical curriculum. Intercollegiate Surgical Curriculum Programme (ISCP) 2021. www.iscp.ac.uk
6. Capabilities in Practice (CiPs) for surgical trainers. www.iscp.ac.uk
7. Shape of training: securing the future of excellent patient care. Health Education England, HEE Quality Framework 2016/17. HEE
8. A reference guide
for postgraduate foundation & specialty training in the UK. The Gold Guide, 8th edition, 2020. www.copmed.org.uk