Rethinking Surgical Training
12 June 2017
FST was at the ICOSET 2017 conference in Adelaide to contribute to the debate on pushing the boundaries of surgical education and training
The Adelaide Convention Centre was the venue for the 2017 meeting of the International Conference on Surgical Education and Training (ICOSET). The meeting extended over two days and the list of speakers read like a who's who of the great and the good in surgical education and training. The theme, 'Rethinking Surgical Training' was apt as the two-day event saw scholarly discourse, fierce debate and much to be learned.
The event commenced by examining surgical training through a variety of lenses, considering the challenges faced across the world, with an emphasis on each country presenting their challenges and strengths. The FST Director delivered the UK perspective, citing the Improving Surgical Training pilot as a positive and innovative project, but stressing that faculty development would be our biggest challenge in ensuring appropriate delivery. Further perspectives from Eire came from Professor Oscar Traynor. The Danes have a sophisticated simulation-based training programme to hone skills prior to a trainee even entering the operating theatre, with Torben Shroeder detailing their journey in Denmark to ensure that the basic facets of an operation should be trained to proficiency in the simulation lab before the trainee goes near a patient.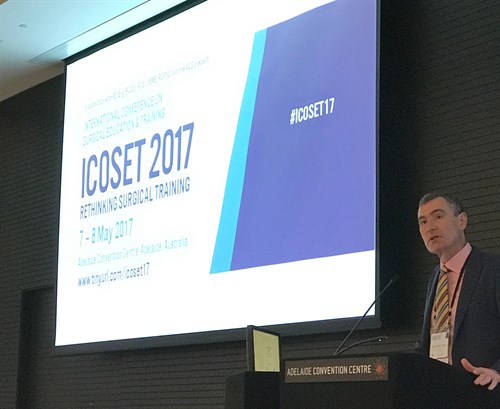 Above: Stephen Tobin, Co-convener of ICOSET 2017 and Dean of Education at RACS, welcomes delegates
Battle of the Giants commenced in the debate "Is it necessary to have core training prior to higher training?". In the blue corner was the UK's Humphrey Scott, head of school of surgery at KSS, and his foe was the mighty Richard Reznick. Professor Scott started off nimbly with a slide of David fighting Goliath, and delivered an impassioned and informed argument for the importance of core training, citing differences between countries and the need for a wide exposure for fledgling surgical trainees. Reznick ultimately triumphed however, with evidence produced from his own accelerated competency-based training programme carrying the fight.
Brian Dunkin from the MiTie institute in Texas delivered a detailed, indeed forensic, examination of the science behind selection in surgical training, beginning with the fact that the Starbuck's barista who served your morning coffee has probably gone through a more rigorous and evidence-based selection than most surgeons. At Mitie they have devised an enhanced selection process for selection of their fellowship candidates, and Prof Dunkin used this as an excuse to peer into the science of selection. The validity rates of most selection techniques remain low, which is why it is vital to combine processes to maximize validity.
This plenary lecture launched the meeting into action and was followed by small group work to brainstorm improvements to the selection process in Australia, which still mainly relies on word-of-mouth and unstructured interviews. From a UK perspective, it was reassuring that most of the improvements derived from the workshops are already in place within UK National Selection.
It was an unaccustomed luxury to have a second day of surgical education, and this was kick started by Oscar Traynor revealing the Irish College use of technology to enhance learning, and their impressive M-Surgery app, which includes virtual reality to teach trainees professionalism and non-technical skills. We continued the cutting edge surgical education with Professor Debra Nestel, a world-class surgical educator and researcher, who runs a fantastic surgical education programme from the University of Melbourne. Her talk on how simulation can aid assessment was enlightening and it was also fantastic to hear Professor Nestel espouse our FST Standards for Surgical trainers as a 'game changer' in surgical training, and how she uses them in her Masters programme in Surgical Education.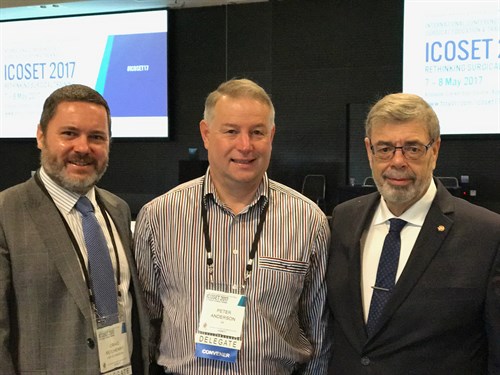 From left: FST's Surgical Director, Craig McIlhenny, with Peter Anderson, ICOSET Co-convener, and Richard Reznick, Dean of the Faculty of Health Sciences, Queen's University, Ontario, and keynote speaker at the inaugural FST conference
The FST Director delivered his thoughts on the vital role of professional judgement in the assessment of trainees, and made the plea that we resist reducing all assessment to featureless checklists, but ensure that we train our faculty sufficiently to deliver a rich, robust and valid assessment of our trainees' performance. Professor Liz Molloy looked at feedback in surgical training – this is an area in which we know we need to improve and hearing an expert speak on this matter was informative. As a Faculty, we recognize this is an area of improvement for trainers – and we hope our faculty development work with the new Improving Surgical Training project will develop valuable resources in this area.
Running coherently with our theme of change in surgical education, we also witnessed change in the way conferences are now reported with Twitter being a constant presence throughout the conference. You can follow tweets from the conference by searching on #ICOSET17.
Congratulations are due to Prof Peter Anderson and Stephen Tobin for organsing this excellent meeting, and we look forward to hosting the 7th ICOSET conference in Edinburgh. It takes place on the 21st and 22nd March 2019 and I hope to see you there.