FST at ICOSET 2015
21 December 2015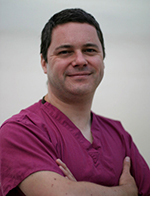 FST Surgical Director, Craig McIlhenny reports from the International Conference on Surgical Education and Training (ICOSET)
ICOSET is currently the world's only international conference on surgical training and beautiful Copenhagen was the host city for the 2015 meeting. Chair of the organising committee, Professor Teodor Grantcahrov put together an excellent programme on competency based training for better surgical care in the 21st century.
The venue was Rigshospitalet in Copenhagen, specifically the grand surroundings of Auditorium One, which lent a definite air of importance to the proceedings. The international level of the conference was clear from the outset with speakers from Canada, Australia and Ireland leading in the first session.
Stephen Tobin, Dean of Education at the Royal Australian College of Surgeons, began with an overview of how the Australian college is engaging junior doctors prior to formal surgical training schemes with their 'jDOCS' framework, and followed with a an examination of the very robust response that their college has produced to bullying and harassment in surgical training. The recent GMC survey confirms that this problem is not an isolated antipodean issue, and the Australian college should be commended for the robust manner in which they are addressing this problem. As educators, we have to be heard with one voice in condemnation of this concern, and Professor Tobin gave a clear direction for us all to follow.
Competency-based assessment is a current topic in all aspects of education and Ken Harris from the Canadian Royal College persuaded us that moving from 'Competence by time to competence by design' was the future of medical and surgical education. Canada is proposing moving all of its education programmes from a time-based model, to one based purely on competence as the 'unit' of progression.
This is an ambitious programme, and one to which I believe the UK should aspire. Professor Harris is not, however, blinded by the lure of competency-based education, and gave an eloquent appraisal of the problems inherent in moving towards such a system – robust assessment processes being one of the hurdles – but the audience seemed convinced by both the strength of his argument and the sheer amount of thought and planning that the Canadian college has invested in this move.
The next stop in our international surgical education tour was Ireland with Professor Oscar Traynor. Having spoken at our previous Faculty of Surgical Trainers meeting, I was well aware of the very impressive integrated approach to surgical training that he and our sister college in Eire have achieved. An impressive programme of fully incorporated simulation and non-technical skills awaits Irish surgical trainees, and Professor Traynor again impressed the ICOSET audience with this cohesive approach to training.
The next two speakers were also veterans of FST conferences. Professor Richard Reznick from Queen's University in Toronto is probably the most renowned surgical educator in the world and was keynote speaker at the very first FST meeting back in 2012. Richard is one of the few educators in the world who has initiated a truly competency-based surgical training programme. The impressive results from his competency-based orthopaedic programme, which graduated fully trained orthopaedic surgeons both faster and better, has now led to the closure of the 'standard' orthopaedic training programme because no trainees wanted to enter it.
Professor Jonathan Beard from Sheffield has also been a past FST presenter, and he spoke about assessment in surgery. Assessment in the surgical workplace continues to be a source of both controversy and poor practice and a lot of the blame is levelled at the assessment tools. Professor Beard stood firm at the assessment helm and steered us steadily to the conclusion that surgical workplace-based assessment is founded on sound and reliable principles. Assessment is here to stay, and an increasing move toward competency-based training programmes will mean more robust assessment, and we need to grasp this nettle with both hands, but while providing effective feedback to our trainees!
After coffee, I had the pleasure of taking one side of the ICOSET debate against Professor Brian Dunkin from the Houston Methodist Institute for Technology, Innovation and Education (Mitie). Professor Dunkin was arguing for simulation and I had to take the converse argument that surgical simulation as it stands has not fulfilled its promise. I argued that, at present, simulation is not fully integrated into surgical training programmes, that it is restricted to certain high quality centres of excellence, and that simulation needs to become less like dining in a Michelin star restaurant and more like a visit to MacDonald's – widely available, accessible and with constant quality. With such a precarious culinary comparison, and giving this lecture in Copenhagen, a world-leading centre for simulation-based training, I was as surprised to win this debate as Professor Dunkin was to (gracefully) lose.
I was also able to present the Faculty of Surgical Trainers publication Standards for Surgical Trainers to the ICOSET audience. This work was well received, and Stephen Tobin from the Australian college confirmed that they will work with the FST to adopt our standards for use in Australia. This presentation also began an excellent discussion around recognition and approval of trainers, and the consensus opinion echoed the position of FST, that surgical trainers need more recognition and time for what they do, and that in order to achieve that they need to be adequately trained, accredited and rewarded.
The last session of the conference focussed on patient safety. Teodor Grantcharov from St Michael's Hospital in Toronto gave an insight into his 'black-box' in the operating theatre. This is synonymous with the flight recorder on a commercial jet in that it records multiple physiological parameters, video and audio in the operating theatre. Teodor's group in Toronto are then analysing this data to see when errors occur in the course of an operation so that they can design individualised training interventions to make surgery safer. While this work is at an early stage, Teodor is convinced that this is where the future of surgical training and patient safety intertwine. While it raises obvious questions about data, patient anonymity and legal redress if a surgical error does occur, the Canadian group have addressed all these concerns by working closely with air Canada to develop a non-jeopardy system for reporting and storing all this data.
This was a fantastic meeting and ICOSET provides a unique opportunity for surgical educators from across the world to come together and share ideas and developments, and RCSEd is proud to be on the organising committee.
The next ICOSET meeting will be help in Adelaide in May 2017.