Mr William Frederick Walter Southwood by David O'Regan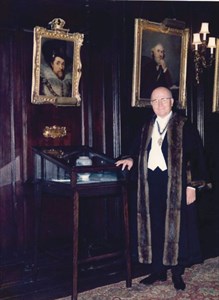 Mr William Frederick Walter Southwood, 1925–2002, was a Consultant General Surgeon with Royal United Hospital Bath. David O'Regan reflects on his experiences being trained by Mr Southwood.
I started my surgical career as a Senior House Officer on the General Surgical Rotation in Bath – 1987 to 1990. Today, I still regard the two and half years that I spent in Bath as the heyday of my surgical career. All the consultants have had an impact on my learning and teaching. I would like to reflect on one of my first trainers – Mr Southwood.
Professionalism
Mr Southwood was the most gentile surgeon that I have ever had the pleasure meeting. He was always courteous to the staff and very polite to patients. I recall relating a history of a patient to him at the bedside on one our first ward rounds. I introduced the patient as 'this chap…'.He interrupted me and said 'Mr O'Regan, you will please refrain from referring to my patients as chaps.' The manner of his reprimand and the respect he showed me and the patient live with me to this day.
He was always impeccably turned out. Indeed, he was of an era that required consultant surgeons to wear dark jackets, waist coat, white shirt and tie and morning suit trousers with patent leather shoes. The whole ensemble was adorned with a gold watch pocket and chain. He expected his trainees to present themselves in a professional manner and look kempt. I believe it is important as surgeons to present ourselves in a professional manner. I recall as a registrar inspecting nails and haircuts of medical students and junior staff and then marching the team to laundry to get clean white coats before every ward round.
Mr Southwood always used to write in the notes. There was a certain ceremony about this and I admired the flourish with which he produced this gold tipped fountain pen and wrote with the deliberation and accuracy of a calligrapher. Note keeping is important – we have to set the example as consultants and I uphold that precept to this day. I expect the same of my trainees.
Resourcefulness
There were no such things as a simulators or wet labs in those days. Indeed, I was one of the first to get the new IBM home PCs thanks to a neighbour who was in the business. Laparoscopic surgery was still five years away.
Mr Southwood was a demon with a 23 Blade Scalpel. He opened redo laparotomies with the flair and accuracy of Zorro. He taught me those essential knife skills and emphasised that sharp dissection is clean dissection. I did ask if I could do a Ramstedt's pyloromyotomy. He replied that I could not until I could cut in a straight line without bacon slicing the skin. Under his direction, I did over 20 mastectomies. I think that the current trainees of today are lacking the same confidence with knife. I often ask the trainee in a jocular manner to name the layers of the skin in Latin and their function as they gingerly scratch each layer before giving up and macerating the tissue with a Halsted forceps or a Mcindoe Scissors. This is why I have included knife skills in the Black Belt Academy of Surgical Skills. Getting the basics correct is essential for the training surgeon.
Trainee Development
It was a Friday lunch time and after the ward round that Mr Southwood asked if I had a jacket. I replied in the affirmative and he responded 'Excellent – lunch at the club'. I was over the moon as I felt as a trainee that I had been admitted to the Fellowship of Surgeons. Although I was starting my career and aspiring to be a consultant surgeon, I had not until that moment felt I was a surgeon or was recognised as such. Lunch was a pleasant event talking about surgery and the Society of Apothecaries of London of which he was the Master and I had recently joined.
I always offered to close the skin after an operation as Mr Southwood preferred interrupted black silk suture to the skin. Although, he did this with due care and attention, I did not feel interrupted black silk sutures were appropriate in the modern era. I did not challenge him directly but always offered to close suggesting that he may want to take a break and have a cup of tea. He always gratefully accepted this offer well knowing, I have no doubt, that I would use an appropriate monofilament of subcuticular stitch. After all, he always inspected the wounds on the ward rounds. What stays with me is the simple principle that your trainee is today, the modern and future surgeon. Trainees have a lot to offer, provided we give them time, space and discretion to do what is best for the patient. My learning and refinement of my surgical techniques have been a result of listening and welcoming the challenges of my trainees.
Communication
Mr Southwood always referred to me on the wad rounds and in the hospital as Mr O'Regan. This was delivered with his own inimitable smile and poise of, what we may refer to now, as an old school surgeon.
He carried an air of quiet authority and was held in reverence and respect by all the staff because he reciprocated in a similar manner. This, to me, epitomised professionalism.
Mr Southwood and the ward sisters and matrons set the tone. He glowed with a quiet benevolence and emanated a confidence and tenacity of a surgeon at the top of his career.
These are enviable qualities that must be aspired to and offer a lot of reflection.
System Disruptions: 19th August 2017
Due to essential systems maintenance and upgrades there will be interruptions to some on-line services on Saturday 19th of August.
We apologise for any inconvenience caused.
×