The British Association of Black Surgeons Inaugural Conference
9 January 2023
Tuesday 15 November 2022 saw the Inaugural Conference of the British Association of Black Surgeons (BABS). A historical day for those who are often not defined for their skill or profession, but by the colour of their skin. As a British-born Black Surgeon, I knew there weren't many that looked like me, but I was fortunate training in Yorkshire to be surrounded by trainers that looked beyond the colour of my skin and saw only my skill and potential as a future surgeon.
Many in the UK across the four nations however, are not that fortunate. A day with people who looked similar to me with similar stories made me reflect and realise that we often overlook or ignore the obstacles put in the path of progression, so that the path is not a rocky one. But by pretending these don't exist, only perpetuates the ongoing cycle of inequity and subsequent generations continue to fail to thrive.
Currently only 2% of Surgeons in the UK are Black or Black British, a figure that has remained static for 10 years when reviewing the GMC Specialist Register. The Royal College of Surgeons of Edinburgh (RCSEd) are working closely with BABS to address this, as one of many issues faced by minorities in the surgical profession.
The opening address was by our most recent past President, Professor Michael Griffin representing RCSEd, platinum sponsors of BABS. The most important message for me was that the College did not have all of the answers but what they could do is to listen; listen to the lived experiences of those in schools, undergraduate level, training and of course the 2% of Black Consultants.  
We heard from many influential Black figures both politically and in surgery, including Lord Victor Adebowale CBE (Chair of the NHS Confederation), Lord Simon Woolley (Principal of Homerton College, Cambridge), Miss Samantha Tross (First Black female orthopaedic surgeon) and Martin Griffiths CBE (Consultant Vascular and Trauma Surgeon and National Clinical Director for Violence Reduction for NHS England) to name but a few.
This provided an opportunity to network and share stories, but more importantly to make new friendships.
Samantha Tross presented some stark figures on the differential attainment of Black Surgeons when measured against their peers during training. It is this area where FST can support trainers and trainees in narrowing this attainment gap.
BABS is at the beginning of its journey, but with allyship from the College and the Faculty of Surgical Trainers, the lack of equity and equality within this group can start to be addressed, increasing and improving the diversity of the Surgeons that serve our diverse nations, thus ultimately improving patient care and outcomes.
FST Honorary Secretary, Miss Shireen McKenzie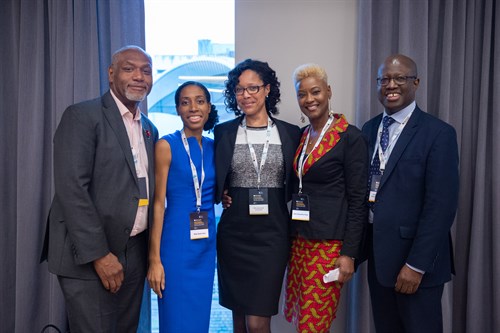 Left to right: Mr Martin Griffiths CBE DL, Miss Sarah Itam, Miss Susannah La-Touche, Miss Samantha Tross
Professor Francis Chinegwundoh MBE - Trustees/Ambassadors of BABS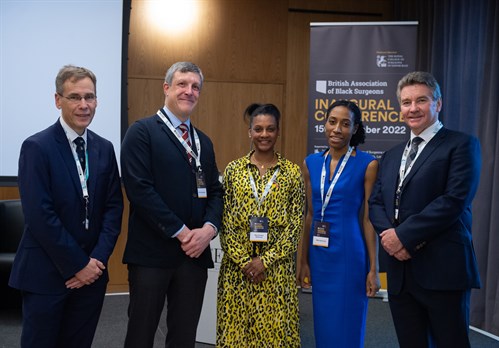 Left to Right: Mr Tim Mitchell, Mr Christopher Sanderson, Miss Shireen McKenzie, Miss Sarah Itam
Professor Michael Griffin OBE - Representatives from RCSEng and RCSEd with Miss Sarah Itam, BABS CEO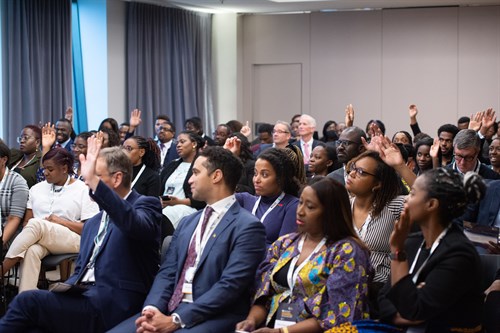 Photos courtesy of BABS/Ian Kiffin.