Australian Orthopaedic Association (AOA)21 Review Group Meeting - Sydney
25 July 2023
In April 2023, James Tomlinson, Deputy Surgical Director of the Faculty of Surgical Trainers, attended the AOA21 Review Group Meeting in Sydney to review the AOA21 training programme, which is modelled after the UK's competency-based surgical training, and to introduce new assessment tools. James emphasised the vision of making AOA21 the leading global Orthopaedics training programme and highlighted the importance of sharing best practices and building a global community of trainers to improve surgical training worldwide.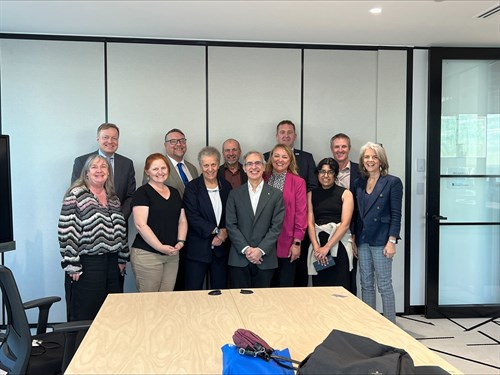 Flying to Sydney for the AOA21 Review Group Meeting was the culmination of 18 months working with the Australian Orthopaedic Association (AOA). The AOA assembled a team of clinician educators from around the world to systematically review their national training programme, and develop recommendations on how it should be taken forward. This meeting was particularly unique, as it was the only face to face meeting in 18 months of working together.
Background:
The AOA previously introduced a new training programme that mirrors the changes being made in UK surgical training to a competency based model.
The new programme was titled 'AOA21' and also introduced a series of new assessment tools (many of which can easily be completed on a mobile phone), clearly defined training phases and a greater emphasis on professional skills. 
The AOA wanted to review the new training programme, understand the impact of the changes, and establish if further changes were needed. There is a clear vision from the top of the AOA that they want to be the world's number 1 training programme in Orthopaedics, and should keep innovating until they achieve this. The commitment to this vision was clear at every level of the AOA, and it was mentioned repeatedly in our time working together.
How did we do it?
The review team consisted of the AOA CEO and support team, the AOA educational leadership team, three Canadian medical education experts and myself. Timezones were a challenge with meetings often held at 11pm UK time as this was the best compromise across time zones.
We agreed the key topics for the review as a team such as curriculum, progression, assessment,  teaching research before agreeing how to assess each of these. Data was taken from a variety of sources including surveys, electronic logbooks, assessment data and focus groups.
What did we learn?
Changes to training are just like any other change management process, and need repeated communication with those affected. It was clear that the reasons for the changes to training were not always clear to trainers and trainees, with a degree of scepticism about the changes.
Improved communication and engagement with the AOA membership to develop a shared understanding of why the changes are happening is a key priority. The AOA are also taking on board feedback from this process, and informing trainers and trainees how this will shape future iterations of training. There are lots of minor changes to make in most areas of the programme, but without widespread engagement they will not be brought to life.
Take away messages?
The team met for the first time the day before we delivered our findings to key training stakeholders. Virtual working allowed international collaboration that would be impossible via traditional ways of working and offers much greater scope for international expertise to be shared.
I was impressed by both the clear vision of the AOA 'to be world leaders in orthopaedic education' and also their willingness to invite outsiders to scrutinise their programme and advise on how it can be improved.  There was also a clear willingness to take on board feedback from all parties and make changes to training.
All of the data captured on training (logbook, assessments etc) is all owned and managed by the AOA themselves. This makes it relatively simple to access, interpret and use data to improve training. UK training is a complex model with a number of organisations administering training, and streamlining this may offer significant benefits.
As Deputy Surgical Director of the Faculty of Surgical Trainers (FST), my experience in Sydney, demonstrated how sharing best practice and celebrating excellence in surgical training aligns with the aims and objectives of FST.  The faculty supports all members who show a commitment to surgical training, and recognises how much of a positive impact reciprocal, accessible, and proactive engagement can have.  Similar problems are seen in surgical training around the world, and by building a community of trainers we can share lessons learned and expertise.