Altruism – U before I
19 February 2021
I noted this title in a social media blog.  It made me think about surgery, teams, patients, and our trainees. How does our profession behave?   
Some years, ago when studying for my MBA in Human Resource Management, the tutor described medical meetings as 'witnessing a pack of dogs going round sniffing each other!' This is referring to the fact that there appears to be a great deal of one-upmanship and bravado. There is an element of preening and showing off. Question time is often used as an opportunity to state the 'I am doing this' rather that genuine enquiry and the offering respect of the 'U'. Portentousness trumps professionalism. The presenter often presents 'my way is best' and the enquirer parries with their way. This discourse of competition has crept into the language of journals when you compare today with yesteryear.
This is perhaps because we as individuals must compete at every stage of our careers for the next post and I believe we are becoming less and less open to ideas and sharing of value. Take wound infection for example – would you not be curious to find out what someone else is doing if their all-wound problems were significantly less than yours? The power of positive deviation in guiding our practice is lost to the 'I' – do not have a problem' or 'I'– do it better anyway'. This results in arguing about the definition of wound infection. Anything less than a perfect wound costs the patient and / or the system. How many surgeons adhere to the published SSI bundle? Why do surgeons think they know better? It is like herding cats. We are our own worst enemies. The 'U' engenders curiosity and enquiry – what are you doing that is better than what I am doing? Simple codified bundles like the SSI bundle are not tablets of stone but a summation of current best practice. Industry recognises that the only way to drive quality is to establish bundles of best practice for all with continual audit and implementation of PDSA cycle. The 'U' comes a long way before 'I' in quality.
There is no 'I' in team. I feel incredibly sad to hear and witness teams fall apart because of the lack of respect for colleagues and their unique worth. 'Blue on blue' fire is damaging to all and does not reflect well on our profession. I believe it is the dry rot of surgery that, if ignored, will undermine the confidence and status of our profession. The public hold us in high esteem and trust our services, but how can we hold our heads high if we tolerate what is reported in the media about surgical teams nationwide? High performing teams have one common attribute – trust. The 'U' engenders respect and should be the foundation of fellowship.
It is 'what matters to you' – the patient that should drive what we can and should do. It can be eloquently summarised with the Nobel laureate, Daniel Kahneman's 'Prospect theory'. Our role as surgeons is to be familiar with the evidence on intervention and non-intervention i.e., the probability of outcome of doing something or nothing. The evidence is often less than clear but do we tell the patient, or worse, how often do we admit we do not know? The value of the decision can only be decided by the patient – they are in the best position to decide if they feel (emotionally, psychologically, spiritually, or physically) strong enough for an intervention. Often doing nothing is the best decision at the time. How often do we use time or invite re-evaluation of a decision to intervene? In emergency situations the decision becomes quite clear but in elective circumstances, often it is not clear. I recall being challenged by two gentlemen in my 'Fit to admit' as to the need to proceed with coronary artery bypass grafts (CABG). They had stable angina and went about their daily lives without problems. I agreed with the challenge as there was no benefit and the risks, albeit small, were real. I invited them to return if they felt the situation changed. In another situation, the registrar confirmed that a seventy-three-year-old lady was fit for CABG but on enquiry she only got angina when trying to lift her husband of fifty-five years. He was inflicted with dementia and often fell to the floor. She only got angina when she tried to pick him up. She told me she did not want an operation but wanted help with her husband. He thought she was trying to get rid of him and he was asking for a divorce. She was distressed. This is a lady who had been carried along a disease conveyor belt from primary to secondary to tertiary care. Appreciative enquiry determined what mattered to her – the 'U' comes before 'I' in enquiry.
The trainee brings their whole selves to work. As trainers we often only see one aspect of these talented individuals who have dedicated themselves to the career. This has come with hard work and sacrifice especially in the current COVID crisis. Uncertainty and anxiety are not uncommon. Our role as trainers is to ensure that the trainees can be themselves and we should enable them to grow and realise their unique talents. This is a relationship that is founded on respect and trust. We are here as trainers to enable the trainee to be the best of themselves and we need to put their needs first– 'U' come before 'I' in tuition. We should be encouraging our trainees to put 'U' before 'I' and we should be role modelling this principle.
Namaste is the greeting proffered by many people in the East. It is a common greeting in the service industry. The simple gesture of placing the palms together and inclining the head. It has a more profound meaning. Namaste conveys complete respect for the individual – their being, skills, and values. The 'U' is holistic and all encompassing – it is profound and simple, enriching and fulfilling. Namaste guides our thinking and actions along a better path where everyone is a winner – our profession, our teams. our patients and our trainees – all because we start to put 'U' before 'I'.
"The best way to find yourself is to lose yourself in the service of others." - Mahatma Ghandi
About the author: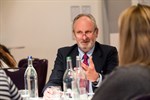 David O'Regan is the Director of the Faculty of Surgical Trainers. He has been a Consultant adult Cardiac Surgeon in Leeds since 2001.