What is in a word? – 'For' or 'With'
17 November 2020
The culture of training is ingrained at every level.  I often hear trainees describe that they work 'FOR' a consultant.  This to me implies a degree of subordination and a level of command control.  I reflect that we had to follow the consultant on the ward rounds. He never went anywhere without his entourage and indeed he told me never to go to another ward without your junior staff.  This can only be interpreted as a high degree of narcissism and self-importance.
It translated into instructions on how to dress. "O'Regan! We only wear silk ties."
And on how to walk. "O'Regan! Surgeons walk down the middle of the corridor. The walls are for the physicians."
Our culture and the way we behave were condensed into missives and strict attire.  Many of us recall the days when the surgical uniform was club tie, blazer, and slacks.  Indeed, on one afternoon, the more gentlemanly of the pair of trainers I worked 'FOR' at the time, enquired if I had a jacket.  I replied in the affirmative to which he was delighted and suggested we had lunch at the club. 
Culture is defined by what we say and do.  Even at the micro level of the firm, the 'FOR' implied a code of conduct reflective of that era.  I think back and the image of dinosaurs, evolution and extinction come to mind!
Is this mindset extinct though?  Sadly, I think not, as there are flare ups of this sort of behaviour at regular intervals and are the reason behind #LetsRemoveit and #HammerItOut.  More alarmingly are continued reports of sexual harassment.
The best metaphor that was offered to me, by the most eccentric and unlikely character, was that he saw himself as sitting on the buckboard of the wagon with me holding the reins.  He said his job was to take the reins when the going was tough or rough.  This did mean however, that I was responsible for all his patients all the time.  Indeed, I was instructed to sit by the bed of the sick post-operative patient until they were well. This was literal as his sleeping patterns were erratic and he would call to check up on them at any hour of the night.  My bladder control was significantly challenged by some protracted recoveries.  Although he said that he would take the reins if the going was tough, he did step back from the table on my first incision. I was undertaking my first double heart valve replacement.  He took off his gloves, commented that he did not know how to teach me and left the room.  He came back some time later to observe me closing the aorta having done the mitral valve and the aortic valve replacement with the house officer.  He asked if I had done the mitral valve and I confirmed that I had, to which he said, "Clearly you operate a lot quicker when I am not here."
And he left the room!  It transpires that this was his way of 'letting go' and determining if you had what it took!?
My first instruction doing a coronary artery bypass graft was, "Just be quick!"
On reflection, I think I have worked 'FOR' someone throughout my career.  I am pleased that I am not an exception but believe we are still a minority of trainers that insist that our trainees work 'WITH' us.  The fact we work 'FOR' the NHS is perhaps the reason we still see Mid Staffs, East Kent and now GOSH.  That is for another day, but the principles are the same. 
In recent weeks, we have heard from two amazing speakers – Bob Chapman at the FST conference and Karl Martin during the RSA meeting.  Leadership and teaching are essentially the same thing.  If we are to see our trainees grow and develop, we need to be working 'WITH' them all the time.  We need to be those leaders and be ourselves i.e. authentic.  
When we work 'WITH' someone, we are building a relationship and that relationship is founded on trust.  It is not surprising that this model is held up by the Navy Seals – high trust and high performance go together and realise the best teams.  All we need to do is change the words describing the y and x axes; the y axis is 'growth' and the x axis could be 'challenge'.  It is all the same thing! 
This is leadership and training built on relationships and people.  That is why organisations headed by people like Bob Chapman succeed where other fail. It is all about valuing people and believing in their potential.  This is where trainer 'soft skills' are paramount.  This is not isolated to leading and teaching because many of us have the privilege to be parents.  It is tough and challenging but we do believe in our offspring and we want the absolute best for them.  We will go to extraordinary lengths to realise their potential and cherish their individuality.  We are essentially working 'WITH' them to engender growth.  I do like the principles of Bob Chapman's leadership – 'everyone is someone's precious child.'
About the author: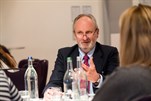 David O'Regan is the Director of the Faculty of Surgical Trainers. He has been a Consultant adult Cardiac Surgeon in Leeds since 2001.