My Best Trainer and Training Moments
23 March 2020
I initiated and have had the privilege of running the Silver Scalpel Award to recognise the best surgical trainers in the UK for 17 years. I am humbled by the qualities of the best surgical trainers that have been nominated the trainees. This feeling is echoed in the feedback from Professor Sir Bruce Keogh, the Medical Director of the NHS who has been the last of a four-step process of adjudication. I have used the same template to identify the best Cardiothoracic Surgeons in Europe through the European Association of Cardiothoracic Surgeons (EACTS) and the Leonardo da Vinci Award for Training Excellence. I have learned from many of these trainers and have adopted some of their practices. I believe that good service and good training go hand in hand and that every day presents a learning opportunity for the trainee and trainer alike.
The Faculty of Surgical Trainers (FST) have defined the attributes of a good surgical trainer and matched these with the competencies published by Health Education England (HEE).
Ensuring safe and effective patient care through training
Establishing and maintaining an environment for learning
Teaching and facilitating learning
Enhancing learning through assessment
Supporting and monitoring educational progress
Guiding personal and professional development
Continuing professional development as an educator
Many of these attributes are echoed in the 360 assessment of the Silver Scalpel Award and the Leonardo da Vinci Award for Training Excellence.
It is often said that good trainers breed good trainers – the legacy of a good trainer lives long in the generations of surgeons who follow them and many of those trainees become recognised surgical trainers in their own rights.
We want to ask all Faculty Fellows, Members or Affiliates or any surgeon with an enthusiasm for training to share their own stories of their trainers past or present. We are asking for a reflective piece of writing describing the surgeon and the moments of positive impact on you as a trainee. We want to understand how these people have influenced you as surgical trainers.
We are asking you to reflect on your chosen trainer with respect to four domains. It is best to punctuate your reflection with actual incidents or stories and reflect on how it has influenced you own practice.
The domains are as follows:
Professionalism
Resourcefulness
Trainee development
Communication
Articles can be submitted by email to fst@rcsed.ac.uk and may be published on the FST website and Facebook page.
About the author: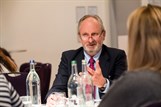 David O'Regan is the Director of the Faculty of Surgical Trainers. He has been a Consultant adult Cardiac Surgeon in Leeds since 2001.