Wipe That Smile From Your Face
17 June 2020
The NHS has announced that from the 15 June that all staff in hospitals must wear a mask.  The common euphemism is Service with a smile – I believe the operative word in the title National Health Service is the word service.  We are here to serve.  Service industries service depend on the quality of the service they provide – if they do not deliver service, they lose customers.  The global industry that has made this their 'raison d'etre' is the Disney Organisation.  They depend on delivering the experiences – 'the magic'.  The difference between a 5/5 satisfaction and a 4/5 satisfaction is a seventy five percent foot fall.  'Happy and smiley' is essential to the Disney experience.  They are masters in providing that extra something that results in a desire to return and return, and again.
We are all customers in our everyday lives – none of us will have any difficulty identifying what is good service and what is bad service and most of us will agree that usually come s with a smile.  Smiles are infectious – you smile and the world smiles with you.  You will go far with a smile; indeed, between letters S is a mile!  Our everyday vernacular includes a plethora of similar 'clichés' and metaphors, but they are important.  From the enigmatic smile of the Mona Lisa to the numerous lyrics of songs over the ages, the smile is essential to our everyday life.
The smile is very comforting for the patient – it is welcoming, friendly, and reassuring.  Happy staff make for happy patients but now that smile is hidden; veiled from interpretation and removed from the 'vocabulary' of non- verbal communication.  As trained surgeons, with a foundation in anatomy, we will know that there are forty-three muscles in the face that are controlled by the facial nerve temporal, zygomatic, buccal, mandibular, and cervical.  There is a compendium of over 10 000 expressions at our disposal.  Apparently, it takes twenty-six muscle to smile and sixty-two to frown – but this is debated.  Suffice to say, the face is the mirror of our thoughts.  Very few people are adept at separating the two – poker players are cited at being some of the best.  Most of us suffer facial leakage. 
I reflect on the book by Fred Lee -If Disney ran your hospital; 9 ½ things you would do differently.  At the time of reading, an American junior doctor was part of our team.  It transpired that he had a summer job as Goofy, in Disneyland, Anaheim, Los Angeles.  I wrote a management paper about the NHS entitled 'Interview with Goofy'.  Of course, his faced was covered and he was suited in a full Goofy costume with the familiar smiling face.  The head of the suit enabled him to look out through the vailed mouth.  Goofy was not allowed to speak and the smile on the model was fixed.  He was trained by Disney to act happy and welcoming all the time.  Indeed, all Disney staff are inducted with acting lessons.  Their business depends on everyone being happy and smiley to all their customers all the time.  They cannot afford to fail as anything less than a fantastic experience is considered a failure.  A smile acknowledges and establishes relationships – it is an invitation and offers inclusion. It is reassuring.  COVID-19 has cajoled the NHS to wipe the smile of our face.
I like the innovation of a clear mask to help lip reading and a digital mask with LED lights that light up in a smile.  Perhaps the time has come for 'mood masks' - but these only work on the swivelling heads of the Lego characters in the movies.
The only actor, I recall, that had little facial expression and built a 'brand' on that that skill was Roger Moore in his role as James Bond.  The unilateral elevation of the eyebrow was his signature.  I laugh as my son has practiced and mastered this skill – he tells me it took some time in front the mirror to add to his repertoire of effective facial expressions.  He will not be disadvantaged by a mask.
Of course, as surgeons, we are accustomed to being masked in theatre – perhaps we are further along the evolutionary scale of communication?  But now we are hampered by PPE; our situational awareness and crew resource management skills will be tempered.  Furthermore, this will add to our personal discomfort that will increase over the duration of the operation.  The impact of this on human factors is recognised but the impact on the NHS and our ability to deliver a service is handicapped.  I return to Fred Lee's book.  This missive to wear a mask always in our workplace necessitates that we revisit the way we all communicate to each other and our patients. 
The NHS could take a leaf out of Fred Lee's book – If Disney ran your Hospital – start training all staff in communication and give everyone acting lessons – as surgeons we already spend most our time in a theatre.
About the author: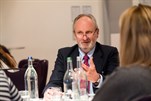 David O'Regan is the Director of the Faculty of Surgical Trainers. He has been a Consultant adult Cardiac Surgeon in Leeds since 2001.